Published in: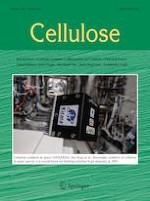 16-07-2021 | Original Research
Dyeing of chitin nanofibers with reactive dyes and preparation of their sheets and nanofiber/resin composites
Published in: Cellulose | Issue 5/2022
Login to get access
Abstract
Blue, red and yellow chitin nanofibers were obtained using reactive dyes. Since the chitin nanofibers and the dye are covalently bonded, they are resistant to hot water and detergents. Since the dyed chitin nanofibers can be mixed at an arbitrary ratio, purple, orange, and green nanofibers corresponding to the mixed colors could be obtained. The dyed chitin nanofibers were evaluated by the reflection spectrum and the color space (
L
*
a
*
b
*). From the viewpoint of reaction yield and color properties, the appropriate ratio of the reactive dye to chitin was 5% at the maximum. The morphology of chitin nanofibers was maintained even after the introduction of the reactive dye. A resin combined with dyed chitin nanofibers was prepared. By combining with nanofibers, it may be possible to give color and improve mechanical strength to resin while maintaining the transparency of the resin to some extent.
Graphical abstract
×