Published in: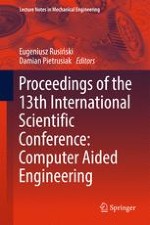 2017 | OriginalPaper | Chapter
Dynamic Analysis of Column Stand for Aircraft Multi-barrel Machine Gun with Consideration of Bearing Clearance
Abstract
To build a machine gun on a helicopter board or on a vehicle, a sufficiently rigid and strong stand is required [
2
]. The construction of a column stand ensures changing a shot direction in the vertical plane and rotation in the horizontal plate. In a bearing of the column, a clearance can occur. It can cause a change in accuracy of a trajectory angle of the bullet. The paper presents a dynamic analysis of a machine gun taking into account clearance in the bearing. The target of the analysis is to find an impact of clearance on the trajectory angle of the bullet.