10-01-2020 | Methodologies and Application | Issue 16/2020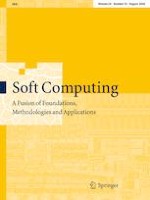 Dynamic ensemble selection based on hesitant fuzzy multiple criteria decision making
Journal:
Authors:

Javad Elmi, Mahdi Eftekhari
Important notes
Publisher's Note
Springer Nature remains neutral with regard to jurisdictional claims in published maps and institutional affiliations.
Abstract
Among several extensions of fuzzy sets, hesitant fuzzy sets (HFSs) are interesting and practical. This paper proposes an application of HFSs in multiple classifier systems (MCSs). The MCSs have been proven as an effective and robust strategy for classification problems. These systems combine different classifiers and generally are composed of three steps: generation, selection (optional) and integration. This paper focuses on the selection step and proposes a novel dynamic ensemble selection method. In particular, the proposed method employs some selection criteria to determine the range of competency of the classifiers, and then, a HMCDM (hesitant fuzzy multiple criteria decision making) method is utilized to select the appropriate classifiers. Experimental results show that the proposed framework improves classification accuracy when compared against current state-of-the-art dynamic ensemble selection techniques. The Quade nonparametric statistical test confirms the capability of our proposed method.