2021 | OriginalPaper | Chapter
E-FDU: An Innovative Double Motor, Disconnectable Front Electric Drive Unit for Ferrari Sport Car Application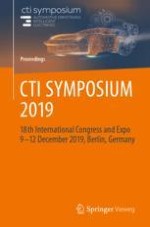 Read first chapter
Authors: Fabio Irato, Carlo Cavallino, Gianluca Quattromani, Giulio Lapini, Giuseppe Manici
Publisher: Springer Berlin Heidelberg
Abstract
Hybrid technology offers key opportunities for fuel economy and performance enhancement also in the sport cars application. The main driver of the technology is the vehicle requirements definition and the development of the components focused on efficiency, performances and weight reduction.
Ferrari and Dana Graziano, together with sister company Vocis and an electric motor partner, has developed and taken into production in less than 24 months a novel P4 hybrid powertrain in the form of a dual motor front torque vectoring axle. The unit is capable to drive the front wheels of the vehicle independently, enhancing traction and improving vehicle dynamics, providing at the same time full electric drive capabilities and fuel consumption reduction. The system comprises a twin independent disconnectable transmissions driven by two high revolution (25000 rpm) and high-power density electric motors (up to 162 kW in total).
The front axle is also responsible for EV mode and electric reverse.
Both left and right transmissions integrate an innovative electromagnetic disconnecting device with integrated electronic HW and advanced controls developed by Vocis and Dana Graziano. Advanced control techniques enable transmission disengagement\engagement in 100 ms and replace entirely traditional actuation systems reducing overall weight, cost and vehicle integration complexity.
Ferrari developed an optimized system control in terms of e-motors torque and transmission disconnecting strategies to achieve overall best vehicle performances.
E-AWD and torque vectoring capability improve acceleration performances, vehicle dynamics, and fuel optimization.