Published in: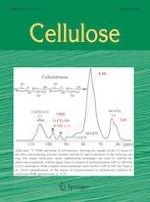 24-01-2022 | Original Research
Eco-friendly dyeing and finishing of organic cotton fabric using natural dye (gardenia yellow) reduced-stabilized nanosilver: full factorial design
Published in: Cellulose | Issue 4/2022
Login to get access
Abstract
Traditional coloration and functionalization of textiles are highly energy-consuming, time ineffective, and require many chemicals. To overcome the drawbacks, cost-effective and eco-friendly natural dyeing and finishing have become an urgent demand. Herein, gardenia yellow, a natural dye, is extracted from
Gardeniae fructus
seeds and used for the coloration of organic cotton fabrics (OCFs). In addition, silver nanoparticles (AgNPs) were synthesized
in-situ
on the surface of the OCFs, where gardenia yellow serves as a reducing and stabilizing agent. Optimization of the process parameters (AgNO
3
conc., gardenia yellow conc., solution pH, and reaction time) for the yield of AgNPs and subsequent fixation of nanoparticles on the OCFs surface were controlled by Taguchi design of experiments. All parameters were tested in a specified range at four levels on the color strength (K/S) and color difference (ΔE) value. Structural characterization of optimized samples revealed that the AgNPs are nanometer size, spherical shapes, evenly dispersed, and firmly attached to the fiber surfaces by molecular force or double networking capabilities of plant phytochemicals. Color properties demonstrate an even shade due to the surface plasmon resonance (SPR) of AgNPs with brilliant color strength. Functional properties exposed that the
in-situ
synthesis of AgNPs significantly enhanced the UV resistance and antibacterial activity (against
Staphylococcus aureus
and
Escherichia coli
) of the OCFs. Overall, this technique of OCF coloration and functionalization by avoiding traditional chemicals including mordants, binders, crosslinkers, finishing, or coating agents offers the desired efficiency and safe product for practical application.
Graphical abstract
×