Published in: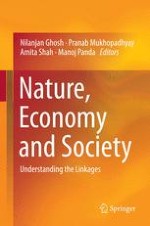 2016 | OriginalPaper | Chapter
1. Ecological Economics: At the Interface of Nature, Economy, and Society
Authors: Nilanjan Ghosh, Pranab Mukhopadhyay, Amita Shah, Manoj Panda
Published in: Nature, Economy and Society
Publisher: Springer India
Abstract
This chapter introduces the broad framework of the discipline of ecological economics which is both a transdisciplinary and interdisciplinary field of research. Ecological economics addresses the critical problems at the interface of nature, economy, and society but also acknowledges the interdependence and co-evolution of human societies and the natural ecosystems over time and space. Ecological economics further integrates the institutional factors that govern an economic system within its disciplinary grid. This chapter provides an overview of the volume by engaging in a brief description about the chapters contributed by the various authors in the volume. In the process of doing so, the chapter approaches towards a definition of the scope of ecological economics at the interdisciplinary interface of nature, economy, and society.