Published in: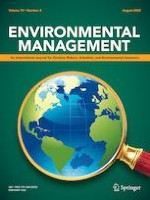 Open Access 14-06-2022
Ecological Sustainability Assessment of Water Distribution for the Maintenance of Ecosystems, their Services and Biodiversity
Published in: Environmental Management | Issue 2/2022
Abstract
Water provision and distribution are subject to conflicts between users worldwide, with agriculture as a major driver of discords. Water sensitive ecosystems and their services are often impaired by man-made water shortage. Nevertheless, they are not sufficiently included in sustainability or risk assessments and neglected when it comes to distribution of available water resources. The herein presented contribution to the Sustainable Development Goals Clean Water and Sanitation (SDG 6) and Life on Land (SDG 15) is the Ecological Sustainability Assessment of Water distribution (ESAW-tool). The ESAW-tool introduces a watershed sustainability assessment that evaluates the sustainability of the water supply-demand ratio on basin level, where domestic water use and the water requirements of ecosystems are considered as most important water users. An ecological risk assessment estimates potential impacts of agricultural depletion of renewable water resources on (ground)water-dependent ecosystems. The ESAW-tool works in standard GIS applications and is applicable in basins worldwide with a set of broadly available input data. The ESAW-tool is tested in the Danube river basin through combination of high-resolution hydro-agroecological model data (hydrological land surface process model PROMET and groundwater model OpenGeoSys) and further freely available data (water use, biodiversity and wetlands maps). Based on the results, measures for more sustainable water management can be deduced, such as increase of rainfed agriculture near vulnerable ecosystems or change of certain crops. The tool can support decision making of authorities from local to national level as well as private enterprises who want to improve the sustainability of their supply chains.
Supplementary information
Introduction
Driven by climate change and growing user demands, water is becoming an increasingly contested resource (Bos et al.
2009
). This applies not only to the naturally dry regions but to most of the populated parts of the world. A major pressure in many river basins is the alteration of water regimes caused by increased agricultural water use (Falkenmark and Rockström
2006
; United Nations
2018
). Unsustainable water use is often correlated with the loss of ecosystem services such as drinking water provision, regulating services, habitat function and biodiversity (Foley et al.
2015
), particularly in wetlands (Grizzetti et al.
2016
; Russi et al.
2013
; UN Water
2020
). The driving forces behind unsustainable water use are manifold. A common denominator seems to be, that regulation of water use very often has a problem of spatial fit (Moss and Newig
2010
), meaning that the multiscale management according to the motto "think of the basin act local" is not sufficiently implemented and decisions are taken on levels which cannot take responsibility for the impacts on higher scales. Water availability on watershed level needs also to set the limits of water use for subordinate spatial entities.
If limits for water use are not communicated including their legitimate value basis (van Oudenhoven et al.
2018
; Heink and Kowarik
2010
; Hagan and Whitman
2006
) and are not implemented, many unconnected small decisions on local scale lead in their summative effect to regional overuse. Legitimate but abstract norms for water use limits are provided by international conventions and treaties (Schlattmann et al.
2021
). Even in countries with a systematic water management such as in Europe, the normative principles of local distribution are seldom transparent and in times of droughts local use extends the boundaries of what is available in the catchment areas—a problem which is increasing with climate change.
Furthermore, very often actual water allocation neglects international standards of biodiversity protection as well as resulting consequences such as hydrological buffer zones around water sensitive ecosystems. A reason may be the lack of integrative environmental and spatial planning (Rijsberman and Molden
2001
; Cooper and Hiscock
2019
) which might be solved by the application of sustainability assessments. Their added value is given when their indicators account for intra-annual variations of water supply and demand on basis of monthly time steps (Vanham et al.
2018
) and the assessment is spatially specific (Albert et al.
2016
; Grizzetti et al.
2016
).
In essence, the present challenge to manage sustainable water use lies in spatial modelling of limits and priorities of water distribution and use expressed in abstract legal norms—including the needs of water sensitive ecosystems—at spatial scales reaching from local to watershed level. The design of water sustainability assessments should include the demands of implementation by considering that responsibilities are allocated to different political levels as well as the demand to deduce concrete measures on local scale from the spatially explicit results.
Existing tools for water scarcity assessment provide a baseline for further methodological progress to respond to these challenges. They range from simple depletion ratios and single indicators such as the Water Stress Indicator (Smakhtin et al.
2004a
) to more elaborate assessment tools with multiple indicators i.e. Watershed Sustainability Index (Chaves and Alipaz
2007
) or Water Footprint (Hoekstra et al.
2011
). A common, well-accepted indicator is the minimum stream flow (FAO
2018
), because of its key role for maintaining habitats and biodiversity a prerequisite for further ecosystem services provision (Wallace et al.
2003
; Pastor et al.
2014
). Green and green-blue water assessments (Schyns et al.
2015
) additionally include evapotranspiration as environmental water requirement (Rockström and Gordon
2001
; Fisher et al.
2017
). However, until now sustainability assessments do not systematically consider the legitimacy of their sustainability indicators, leading to a weak normative basis for prioritization of rights to water. Furthermore, mostly they do not cover multiple scales or do not lead to area specific results about the impairment of ecosystem functioning and biodiversity (Smakhtin et al.
2004b
; Vanham et al.
2018
).
This study attempts to overcome these limitations by developing a sustainability assessment approach that builds on existing methods but reacts to the challenges of:
referencing to legitimate international sustainability standards

a focus on biodiversity and related ecosystem services and thus on ecological integrity of water use assessments

multiscale application reacting to the interrelations between different decision levels and water-governance tasks

suitability for broad practical implementation in water management and spatial planning
The herein presented Ecological Sustainability Assessment of Water distribution (ESAW-tool) is a watershed sustainability tool with an ecological risk assessment. The watershed sustainability is assessed by a single indicator. The ecological risk assessment is implemented through three indicators on finer grid resolution (Fig.
1
). Ecosystems and related water allocation issues often transgress national boundaries. To overcome normative issues across boundaries, the assessment applies a globally equal basis for sound management of water resources (Schlattmann et al.
2021
) and evidence-based decision-making (Opdam et al.
2002
; von Haaren et al.
2008
). Sustainability, in this study is inspired by the definition given in the Brundtland Report (1987): "Sustainable development is development that meets the needs of the present without compromising the ability of future generations to meet their own needs". The authors appreciate that sustainability is inseparable composed of economy, society, and ecology. However, multi-dimensional sustainability assessments directly based on Brundtland or the SDGs, have inherent conflicts of priorities between the objectives. Those are considered solvable on the implementation level, which often is not the case. The authors pay tribute to this problem and base their assessment on the two SDGs: Clean Water and Sanitation (SDG 6) and Life on Land (SDG 15) (UN
2015
) with clear priorities between the water-related sustainability objectives. This focus enables place-based implementation of the targets concerning ecosystem health. Thus, the developed ESAW-tool reconciles the evaluation of ecosystem related targets for sustainable water use, as the combination of all sustainability dimensions would not be beneficial in a standardized assessment. The inter-generation aspiration for sustainability can be addressed by applying the tool for long-term periods.
×
The ESAW-tool is tested in the Danube basin for the vegetation periods 2015–2018 with high resolution hydro-agroecological and groundwater model data and further freely available data to explore sensitivity and adaptive capacity in a representative and large river basin with diversity of natural landscape conditions. Finally, the authors discuss possibilities of application in decision-making on multiple levels.
Materials and Methods
The ESAW-tool is developed as application for standard geoinformation systems (GIS) that can be applied in river basins worldwide with a set of hydrological, water use and land cover variables. Freely available databases are applicable in the ESAW-tool. The present study is conducted with data from hydro-agroecological model PROMET (Processes of Mass and Energy Transfer) for surface water and agricultural variables and the hydrogeological model OpenGeoSys for groundwater variables. The dataset is supplemented with freely available data, including biodiversity maps, industrial and domestic water use, and livestock water consumption. Results are computed monthly in a GIS in WGS 84 coordinate system.
Results
Discussion
The ESAW-tool is successfully implemented in a test case, the Danube basin. The ESAW-tool satisfactorily addresses the research goals: The developed indicators are applied in a spatial assessment. The results transparently show the limits for sustainable water use in physical maps. The indicators apply thresholds of ecosystem functioning and service provision as limits for sustainable water use. If applied, these limits for sustainable water use prevent ecosystems from degradation and losses of ecosystem services and biodiversity. The present results inform about sustainability of water use in the Danube basin on two spatial levels and with different detail applicable for various applications that will be discussed. Nevertheless, some shortcomings remain with respect to the complexity of the system, its proper representation in the model and data availability limitations.
Conclusions
The ESAW-tool is composed of a basic assessment that evaluates the sustainability of water allocation to different user types on sub-basin level and an additional component which differentiates the ecological risk of impairment for water dependent ecosystems. The methodology is globally applicable and suited for standard GIS applications and flexible data inputs. New components are the use of an evaluation framework based on legitimate international sustainability standards, transferred into operable indicators, which can be spatially applied; the incorporation of the risk for biodiversity; and a multi-scale approach leading to a new quality of results bridging different planning levels. These features are an important asset for the acceptability of the results and practical implementation.
The spatial river basin approach is suited to support decision-making in water use and distribution contexts for different kinds of users and problem contexts. The scale and data policies make the ESAW-tool useful for strategic water resources management and landscape planning since conflicts of water allocation to different ecosystem services can be assessed in a broader spatial context before passing over to local specification and implementation. As example, the application of the tool in the Danube basin demonstrates the temporal and spatial fluctuations of the water use sustainability in the area and identifies critical periods and users as well as vulnerable areas that require special consideration. Even if the Danube basin is globally not considered as directly threatened by water scarcity, the results prove clear need of regional and local redistribution of the water resources in some critical areas to improve the sustainability of the water use practices. Concluding, the ESAW-tool can support public authorities, business, funding agencies and further stakeholders that are involved in decisions on sustainable water management and the development of the agricultural sector. Thus, the ESAW-tool contributes to the achievement of the water-related Sustainable Development Goals.
Supplementary information
Acknowledgements
The authors acknowledge the German Federal Ministry of Education and Research (BMBF) for funding this research. The authors thank the entire ViWA project team for supportive discussions. Further thanks go to Rohini Kumar, Oldrich Rakovec, Luis Samaniego and Stephan Thober from the UfZ Leipzig who provided hydrological data from the mHM model with which we could test our indicators. We also thank Alwin Henschel and Mareike Plinke for their assistance in the implementation of the GIS models. Finally, we thank Jürgen Böttcher from the Institute of Soil Science, Leibniz University Hannover, for his support in questions on soil-water characteristics.
Author contributions
Conceptualization: AS; Methodology: AS, FN, KB with contributions from EP, WM, EP and CvonH; Formal analysis and investigation: FN, AS; Writing—original draft preparation: AS, with contributions from EP and EPu; Writing—review and editing: All authors; Model data: EP, WM, EPu; Further resources: FN, AS; Supervision: CvonH.
Compliance with Ethical Standards
Conflict of Interest
The authors declare no competing interests.
Open Access
This article is licensed under a Creative Commons Attribution 4.0 International License, which permits use, sharing, adaptation, distribution and reproduction in any medium or format, as long as you give appropriate credit to the original author(s) and the source, provide a link to the Creative Commons license, and indicate if changes were made. The images or other third party material in this article are included in the article's Creative Commons license, unless indicated otherwise in a credit line to the material. If material is not included in the article's Creative Commons license and your intended use is not permitted by statutory regulation or exceeds the permitted use, you will need to obtain permission directly from the copyright holder. To view a copy of this license, visit
http://​creativecommons.​org/​licenses/​by/​4.​0/​
.