01-04-2014 | Issue 4/2014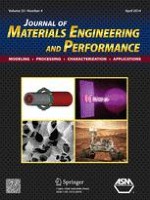 Effect of Cr on Microstructure and Properties of a Series of AlTiCr

x

FeCoNiCu High-Entropy Alloys
Authors:

Anmin Li, Ding Ma, Qifeng Zheng
Abstract
A series of AlTiCr
x
FeCoNiCu (
x
: molar ratio,
x
= 0.5, 1.0, 1.5, 2.0, 2.5) high-entropy alloys (HEAs) were prepared by vacuum arc furnace. These alloys consist of α-phase, β-phase, and γ-phase. These phases are solid solutions. The structure of α-phase and γ-phase is face-centered cubic structure and that of β-phase is body-centered cubic (BCC) structure. There are four typical cast organizations in these alloys such as petal organization (α-phase), chrysanthemum organization (α-phase + β-phase), dendrite (β-phase), and inter-dendrite (γ-phase). The solidification mode of these alloys is affected by Chromium. If γ-phase is not considered, AlTiCr
0.5
FeCoNiCu and AlTiCrFeCoNiCu belong to hypoeutectic alloys; AlTiCr
1.5
FeCoNiCu, AlTiCr
2.0
FeCoNiCu, and AlTiCr
2.5
FeCoNiCu belong to hypereutectic alloys. The cast organizations of these alloys consist of pro-eutectic phase and eutectic structure (α + β). Compact eutectic structure and a certain amount of fine β-phase with uniform distribution are useful to improve the microhardness of the HEAs. More γ-phase and the microstructure with similar volume ratio values of α-phase and β-phase improve the compressive strength and toughness of these alloys. The compressive fracture of the series of AlTiCr
x
FeCoNiCu HEAs shows brittle characteristics, suggesting that these HEAs are brittle materials.