23-09-2020 | Production Process | Issue 5-6/2020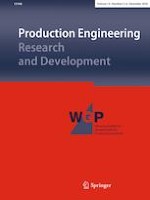 Effect of die pressure on the lubricating regimes achieved in wire drawing
Journal:
Authors:

Umberto Prisco, Gustavo Aristides Santana Martinez, Leonardo Kyo Kabayama
Important notes
Publisher's Note
Springer Nature remains neutral with regard to jurisdictional claims in published maps and institutional affiliations.
Abstract
An experimental campaign of wire drawing was carried out under different conditions of average die pressure. Experiments were carried out measuring the drawing force and the temperature at the exit of the deformation zone with the use of a thermocouple closely located to the wire-die interface. Dies of three different semi-angles (6°, 7° and 9°), were employed to obtain different values of die pressure, while different lubrication regimes were achieved varying the drawing speed in the range 1–22 m/s. It was demonstrated that lubricating regimes of lower friction coefficient are achieved at smaller values of the drawing speed with increasing the die pressure. Likewise, the hydrodynamic regime arises at lower drawing speeds by increasing the die semi-angle. For example, it was observed that the hydrodynamic regimes developed at 19 m/s for the 6° die but at 15 m/s for the 9° die. This behaviour was correlated to the response of the lubricant viscosity to the die pressure by means of the Hersey analysis. The consequences of this finding on the problem of optimizing the die angle with the objective to reduce the drawing stress are discussed. On this basis, it is shown that the optimum die angle decreases as the drawing speed increases, other things being equal.