01-05-2015 | Issue 5/2015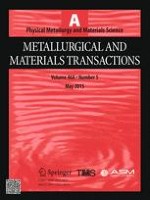 Effect of Indium Alloying with Lead on the Mechanical Properties and Corrosion Resistance of Lead-Indium Alloys in Sulfuric Acid Solution
Authors:

Abdel-Rahman El-Sayed, Eslam M. M. Ibrahim, Hossnia S. Mohran, Mohamed Ismael, Hoda Abdel-Shafy Shilkamy
Important notes
Manuscript submitted October 16, 2014.
Abstract
Effect of indium alloying in various concentrations with lead on both microhardness and crystallite structure of lead-indium alloy was investigated. The corrosion behavior of lead-indium alloys in 4 M H
2
SO
4
acid solution was investigated by Tafel plot and electrochemical impedance spectroscopy (EIS) methods. The results of both Tafel plot extrapolation and EIS measurements exhibited the same trend. Generally, the corrosion resistance of the alloy is more significant compared with that observed for pure lead. This study shows that the addition of 0.5 pct In to Pb decreases the corrosion. However, with a further increase of alloying In, the corrosion rate of alloy starts to increase up to 5 pct In compared with that of Pb-0.5 pct In alloy. Then the corrosion rate decreases gradually with the increase in the percentage of In up to 15 pct. The values of activation energy (
E
a
) supported this trend of the corrosion rate which is obtained for Pb and Pb-In alloys. X-ray diffraction data exhibited broadness of peaks, which is due to lattice distortion or grain refinement. Clearly the peaks shift to higher angles for Pb-15 pct In alloy which can be attributed to changes in lattice structure of Pb. Scanning electron microscope images confirmed that the microstructure is changed with indium alloying content. The solute content tends to refine the microstructure array.