01-06-2015 | Symposium: Bulk Metallic Glasses XI | Issue 6/2015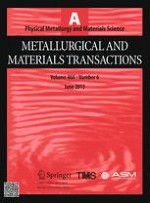 Effect of Metallic Glass Particle Size on the Contact Resistance of Ag/Metallic Glass Electrode
Authors:

Jin Man Park, Keum Hwan Park, Eun Soo Park, Seok-Moo Hong, Se Yun Kim, Sang Soo Jee, Eun Sung Lee, Suck Jun Kim, Ki Buem Kim, Do Hyang Kim, Jürgen Eckert
Important notes
Manuscript submitted March 20, 2014.
Abstract
In this study, electrically conductive Al-based metallic glass (MG) has been applied as an alternative of oxide glass in silver paste. Al
85
Ni
5
Y
8
Co
2
MG powder was produced by gas atomization process and simultaneously classified depending on the size of powder. The wetting behavior of MG was dramatically altered by the degree of crystallinity and the size of MG powder, resulting in the different sinterability of silver (Ag) and contact area between Si emitter and Ag. The Ag electrode with smaller MG powder shows much denser structure of Ag and larger contact area, leading to low contact resistance, 0.69 ± 0.38 at
p
-type and 0.56 ± 0.13 mΩcm
2
at
n
-type emitter.