15-06-2020 | ORIGINAL ARTICLE | Issue 6/2020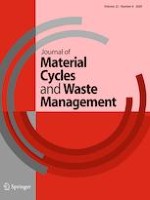 Effect of micro-oxygen pretreatment on gas production characteristics of anaerobic digestion of kitchen waste
Authors:

Xiaofei Zhen, Xiaoyan Zhang, Shuaibing Li, Mingche Li, Jian Kang
Important notes
Xiaofei Zhen, Xiaoyan Zhang, Shuaibing Li, Mingche Li and Jian Kang have equally contributed to this article.
Publisher's Note
Springer Nature remains neutral with regard to jurisdictional claims in published maps and institutional affiliations.
Abstract
Micro-oxygen pretreatment of kitchen waste was done to improve the gas production efficiency of anaerobic fermentation and shorten the fermentation cycle of kitchen waste. The results demonstrated that with an oxygen supply of 20 mL, the peak gas production increased from 498 to 601 mL, and the theoretical gas production increased by 4.5 mL/g VS (volatiles solid) compared with those of the control group R1–R4. The anaerobic fermentation entered the late stage on day 25, which was 13 days earlier than that of the control group. The chemical oxygen demand and ammonia nitrogen contents in the treatment groups of R1–R4 were relatively stable. An oxygen supply of 20 mL was conducive to stimulating the facultative anaerobes, promoting the decomposition of nitrogenous compounds and organic matter, and improving the anaerobic fermentation efficiency. A lesser amount of oxygen (≤ 15 mL) was unable to effectively improve the gas production efficiency of anaerobic fermentation, although it exerted a certain inhibitory effect on anaerobic fermentation.