22-06-2020 | Communication | Issue 9/2020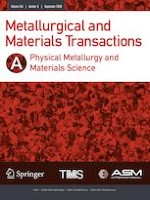 Effect of Si Addition on Martensitic Transformation and Microstructure of NiTiSi Shape Memory Alloys
Authors:

Pavel Salvetr, Andrea Školáková, Pavel Novák, Jaroslav Vavřík
Important notes
Manuscript submitted April 07, 2020.
Publisher's Note
Springer Nature remains neutral with regard to jurisdictional claims in published maps and institutional affiliations.
Abstract
The effect of Si addition on microstructure and martensitic transformation of the Ni-Ti-Si SMA was investigated in this work. The Ni
49−0.5

x
Ti
51−0.5

x
Si
x
alloys with various amounts of silicon (2.1 ≤ × ≤ 21.1 at. pct) were prepared by the self-propagating high-temperature synthesis (SHS). Temperatures of the phase transformation increase with the increasing amount of silicon in the samples, which also causes the change of the Ti/Ni ratio in the matrix. The temperatures of austenite transformations are around the temperature of 373 K.