01-07-2007 | Issue 14/2007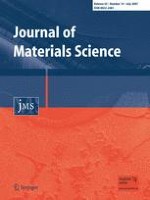 Effect of simultaneous substitution of La and Mn on dielectric behavior of barium titanate ceramic
Journal:
Authors:

Om Parkash, Devendra Kumar, R. K. Dwivedi, K. K. Srivastava, Prakash Singh, Sindhu Singh
Abstract
A few compositions in the valence compensated system Ba
1−

x
La
x
Ti
1−

x
Mn
x
O
3
were synthesized by solid-state ceramic method to study the effect of co-doping lanthanum and manganese in equimolar amounts on dielectric behavior of BaTiO
3
. Compositions with
x
≤ 0.10 have shown solid solution formation. Compositions with
x
≤ 0.05 are found to have tetragonal structure at room temperature while composition with
x
= 0.10 is cubic. Plots of relative dielectric constant, ε
r
versus temperature for composition with
x
= 0.01 show dielectric anomalies around 376 ± 2, 264 ± 2 and 179 ± 2 K which correspond to cubic to tetragonal (
T
C–T
), tetragonal to orthorhombic (
T
T–O
) and orthorhombic to rhombohedral (
T
O–R
) transition, respectively, similar to BaTiO
3
. Curie temperature has been found to decrease with increasing concentration of lanthanum and manganese simultaneously in barium titanate. The broadening in the dielectric peak at cubic to tetragonal (
T
C–T
) transition temperature increases with increasing
x
. For
x
= 0.10, only one anomaly at 100 K is observed in its ε
r
versus
T
plots. The observation of this single anomaly may be due to pinching effect of the substitutions on the three phase transitions.