05-04-2019 | Issue 3/2019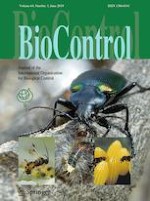 Effect of supplementary food containing
Artemia salina

on the development and survival of flightless

Harmonia axyridis

in greenhouses
Journal:
Authors:

Tomokazu Seko, Junichiro Abe, Kazuki Miura
Important notes
Handling Editor: Patrick De Clercq
Abstract
Brine shrimp cysts are potentially useful as a supplemental food to sustain populations of flightless
Harmonia axyridis
Pallas in greenhouses. We studied the effect of
Artemia salina
L., alone and combined with sucrose, on the survival and development of juvenile flightless
H. axyridis
under laboratory conditions. The proportion of wing malformations, the body size of females, and the hatching rate were improved by the addition of sucrose to diets containing
Artemia
cysts alone. We conducted release experiments in greenhouses containing eggplants to evaluate the effects of the supplemental food, consisting of a mixture of
A. salina
and sucrose. Compared with non-supplemented eggplants, more larvae, pupae, and adults of flightless
H. axyridis
were observed and the incidence of aphids tended to be suppressed in the plots with supplemental food. These results show that the food supplementation effectively improves the development and survival of juvenile flightless
H. axyridis
during periods of low prey density.