08-03-2019 | Issue 8/2019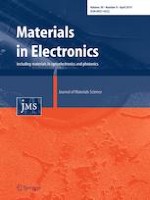 Effect of transition metal substitution on structural and dielectric properties of Mg0.5Zn0.5−xCrxCo2O4 (0.0 ≤ 
x

 ≤ 0.5) cobaltite
Authors:

Pallavi Saxena, P. Choudhary, A. Yadav, V. N. Rai, M. Varshney, A. Mishra
Important notes
Publisher's Note
Springer Nature remains neutral with regard to jurisdictional claims in published maps and institutional affiliations.
Abstract
We report the impact of Cr ion doping on structural and dielectric properties of Mg
0.5
Zn
0.5−x
Cr
x
Co
2
O
4
(0.0 ≤ 
x
 ≤ 0.5). All the samples were prepared by high-temperature solid-state reaction route. X-ray diffraction patterns reveal that Mg
0.5
Zn
0.5−

x
Cr
x
Co
2
O
4
(0.0 ≤ 
x
 ≤ 0.5) crystallizes into more than one phase. Rietveld analysis of Synchrotron-based X-ray diffraction also confirms the existence of secondary phases corresponding to the cubic structure with
Fd
-3
m
and
Fm
3
m
space group. Scanning electron microscopy (SEM) images confirm the growth in grain size as a result of high sintering temperature. The FTIR spectra of doped cobaltites show two strong peaks at ~ 665 and 563 cm
− 1
due to the presence of metal–oxygen bond. Variation in the dielectric constant and dielectric loss with frequency have also been investigated. Both decreases with increasing frequency of the applied alternating field and becomes constant at high frequencies that signify the substantial role of interfacial polarisation. It is also noted that the material having the smallest crystallite size (~ 29.16 nm) has high dielectric constant (~ 1.07 × 10
5
) value. Cole–Cole plot indicates that all the samples of cobaltite show dominant grain capacitance.