13-03-2019 | Issue 8/2019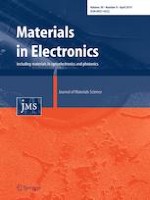 Effect of Zn incorporation on the electrochemical corrosion properties of SAC105 solder alloys
Authors:

N. K. Liyana, M. A. Fazal, A. S. M. A. Haseeb, Saeed Rubaiee
Important notes
Publisher's Note
Springer Nature remains neutral with regard to jurisdictional claims in published maps and institutional affiliations.
Abstract
The corrosion behaviour of lead-free solder alloy, Sn–1.0Ag–0.5Cu–
X
Zn (
X
 = 0, 0.1, 0.5, 1.0) was investigated by polarization, electrochemical impedance spectroscopy, scanning electron microscopy, energy dispersive spectrometry and X-ray diffractometry upon exposure in 3.5 wt% NaCl solution. The polarization curves showed that the addition of Zn in SAC105 solder alloy increased the corrosion current density and shifted the corrosion potential towards more negative values. The corrosion resistance of Sn–1.0Ag–0.5Cu–
X
Zn alloys was reduced with the increase of Zn concentration. The EIS results were in consistent with the findings obtained from polarization curves. The corrosion products detected on the surface includes Sn
3
O(OH)
2
Cl
2
, SnO, SnO
2
and ZnO.