01-06-2015 | Issue 6/2015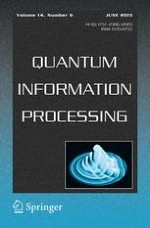 Effective scheme for
\(W\)

-state fusion with weak cross-Kerr nonlinearities
Journal:
Authors:

Xue Han, Shi Hu, Qi Guo, Hong-Fu Wang, Shou Zhang
Abstract
We propose a effective
\(W\)
-state fusion scheme with the help of weak cross-Kerr nonlinearities, which can fuse a
\(n\)
-qubit
\(W\)
state and a
\(m\)
-qubit
\(W\)
state to a
\((m+n-1)\)
-qubit state without an ancillary photon. Specially, the present scheme can fuse two Bell states to create a three-qubit
\(W\)
state. We analyze the resource cost and the success probability of the scheme. The analysis shows that the present scheme requires less resource cost compared with the previous ones and can be achieved with high probability under the current experiment technology.