Published in: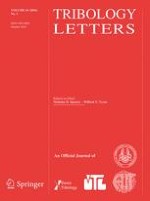 01-10-2016 | Original Paper
Effective Shear Displacement on Lateral Adhesion Force of a Liquid Bridge Between Separated Plates
Published in: Tribology Letters | Issue 1/2016
Log in
Abstract
Adhesion force is among the most influencing factors in micro- and nano-mechanics. A liquid bridge between two bodies gives rise to the adhesion force, which usually acts as additional normal load. However, the adhesion force acts also in lateral. We measured the lateral adhesion force of a sheared liquid bridge between parallel plates. In addition, movement of contact lines is tracked by using an image processing technique, which allowed us to introduce an effective shear displacement. The lateral adhesion force has a linear relation with the effective shear displacement. It shows good agreement between experimental result and the analytical approach regarding changes of interfacial energy with simple rectangular shape of the liquid bridge. We further revealed that there is no contact line in pinned state even in the case with the very beginning of the sheared process. In this regard, however, the contact line on rougher surface is awkward in its movement. Therefore, the liquid bridge between two rougher surfaces has higher effective shear displacement, and it results in the higher lateral adhesion force.