04-04-2020 | Issue 5/2020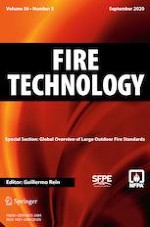 Effectiveness of Smoke Confinement of Air Curtain in Tunnel Fire
Journal:
Authors:

Dongli Gao, Tao Li, Xiujuan Mei, Zinan Chen, Shuhang You, Zhongkuan Wang, Kaihong Wang, Peng Lin
Important notes
Publisher's Note
Springer Nature remains neutral with regard to jurisdictional claims in published maps and institutional affiliations.
Abstract
Air curtain is an effective means to stop the propagation of smoke in buildings to provide smoke-free area for safe egress of occupants in case of fires. To understand its effectiveness of smoke confinement in tunnel fires, full-scale tests were conducted in a tunnel of 140 m long and with varying heights of 5.0 m to 5.9 m and varying widths of 5.8 m to 10.8 m. A 20 cm-wide air curtain spanning entire lateral section was installed underneath the tunnel ceiling. The experiment showed that air curtain at exit velocities of 12 m/s and 16 m/s can stop the propagation of smoke produced by 1 MW fire and 2 MW fire respectively. Numerical simulation using ANSYS FLUENT was then conducted and the numerical results were basically consistent with those of experiment. To explore how the design parameters of air curtain, i.e., the width, the exit velocity and its angle, affect its effectiveness of smoke confinement at varying heat release rates, a number of numerical simulations were further conducted. The relationship of design parameters of air curtain with heat release rates was proposed and it can be used in the design of air curtain in tunnel fires.