19-10-2018 | Original | Issue 1/2019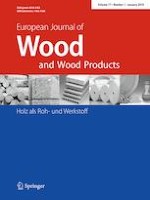 Effects of moisture content on elastic constants of fir wood
Authors:

T. Yilmaz Aydin, A. Ozveren
Important notes
Publisher's Note
Springer Nature remains neutral with regard to jurisdictional claims in published maps and institutional affiliations.
Abstract
In this study, the effect of moisture on elastic properties of fir wood (
Abies cilicica
Carr.) was investigated. Three moduli of elasticity in principal directions (E
L
, E
R
, E
T
), six Poisson's ratios (υ
LR
, υ
LT
, υ
RT
, υ
TR
, υ
RL
, υ
TL
) and three shear moduli (G
LR
, G
RT
, G
LT
) were determined using compression tests. Compression strength in principal directions was also determined. Clear and small wood specimens were conditioned at 20 °C and 45, 65 and 85% relative humidity. Stress–strain curves of the samples were obtained using bi-axial extensometer in order to calculate elastic constants. Test results indicated that moisture content significantly reduced the measured properties except for Poisson's ratio. The elastic modulus in the three principal directions is significantly different. Well-known order of E
L
> E
R
> E
T
for elasticity, and L > T > R for compression strength is valid. Shear modulus obeys the G
LR
> G
LT
> G
RT
rule. The results of this study can provide sufficient data for modeling of the elements or system's behavior under load using fir wood.