Published in: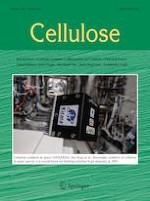 10-10-2021 | Original Research
Effects of orientation and degree of polymerization on tensile properties in the cellulose sheets using hierarchical structure of wood
Published in: Cellulose | Issue 5/2022
Login to get access
Abstract
Structural control is essential for further development of cellulosic materials. Here, we demonstrated the significance of the orientation and degree of polymerization in the integrated structure of cellulose microfibrils using sheets based on the hierarchical structure of wood. Non-cellulosic components were removed from wood blocks of a conifer by applying a two-step chemical treatment. Partially changing the treatment conditions generated cellulose blocks with varying degrees of polymerization while maintaining the anatomical structure. Cellulose sheets with oriented microfibrils were subsequently prepared by heat-pressing the blocks. Sheets with randomized appearance of orientation were also produced by disassembling tracheid alignment. These sheets were then subjected to structural evaluation and tensile tests. Comparison of both sheets showed that microfibril orientation mainly determined the modulus. As long as the orientation was maintained, the specific modulus was independent of the degree of polymerization. In contrast, the tensile strength of the oriented sheet varied with the degree of polymerization, indicating that it notably reflected the single fiber strength compared to the randomly oriented sheet. Hence, a highly oriented structure with unfragmented microfibrils is the determinant of a superior material. Consequently, the sheets in which these parameters are readily controlled can advance cellulose applications.
Graphic abstract
×