27-07-2021 | Issue 3/2021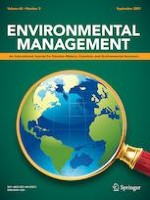 Effects of Vegetation Restoration on Soil Enzyme Activity in Copper and Coal Mining Areas
Journal:
Authors:

Hui Sun, Jianfeng Zhang, Rongjia Wang, Zongtai Li, Shiyong Sun, Guanghua Qin, Yumin Song
Important notes
These authors contributed equally: Hui Sun, Rongjia Wang.
Publisher's note
Springer Nature remains neutral with regard to jurisdictional claims in published maps and institutional affiliations.
Abstract
Mining areas are suffering from serious environmental hazards, such as soil erosion, water pollution as well as land degradation. In this study, two types of mining areas in Anhui Province, China—one a copper mining area and the other a coal mining area—were selected to compare the soil properties under different vegetation restoration conditions, which can be generally classified into reclaimed and non-reclaimed areas. Soil catalase and urease activities and soil chemical properties were chosen to be the main indicators of soil quality. Principal component analysis was used to evaluate the overall soil fertility in the copper and coal mining areas. Results showed that in the copper mining area soil catalase activity was between 12.36 and 19.17 μg g−1 h−1 and urease activity was between 0.03 and 12.05 μg g−1 h−1. And in coal mining area, soil catalase activity was between 3.52 and 9.72 μg g−1 h−1 and urease activity was between 2.71 and 10.81 μg g−1 h−1. Moreover, soil catalase and urease activities in degraded areas were lower than those in reclaimed areas. Soil catalase activity and soil urease activity were significantly correlated with total potassium and total nitrogen, respectively. Soil quality in land types with vegetation restoration was higher than in non-reclaimed areas and old subsidence areas, while soil quality in the copper mining area was generally higher than in the coal mining area. Thus, the optimum measure in this region to ameliorate these degraded soils is vegetation restoration, which helps not only to improve the environment, but also to enhance soil quality in these degraded lands.