01-08-2011 | Issue 4/2011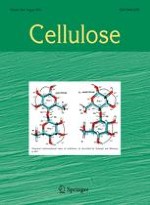 Effects of wet-pressing-induced fiber hornification on enzymatic saccharification of lignocelluloses
Journal:
Authors:

X. L. Luo, J. Y. Zhu, R. Gleisner, H. Y. Zhan
Important notes
This work was conducted at the USDA Forest Service, Forest Products Laboratory (FPL) while Luo was a visiting student at the University of Wisconsin–Madison and FPL, and on official government time by Zhu and Gleisner. The work is in the public domain in the U.S.
Abstract
This article reports the effect of wet-pressing-induced fiber hornification on enzymatic saccharification of lignocelluloses. A wet cellulosic substrate of bleached kraft eucalyptus pulp and two wet sulfite-pretreated lignocellulosic substrates of aspen and lodgepole pine were pressed to various moisture (solids) contents by variation of pressing pressure and pressing duration. Wet pressing reduced substrate moisture content and produced irreversible reduction in fiber pore volume—fiber hornification—as reflected in reduced water retention values (WRVs), an easily measurable parameter, of the pressed substrates. Wet pressing resulted in a reduction in substrate enzymatic digestibility (SED) by approximately 20% for the two sulfite-pretreated substrates when moisture content was reduced from approximately 75% to 35%. The reduction in SED for the cellulosic substrate was less than 10% when its moisture content was reduced from approximately 65% to 35%. The results indicated that reduction in SED is negligible when samples were pressed to solids content of 40% but observable when pressed to solids content of 50%. It was also found that WRV can correlate to SED of hornified substrates resulting from the same never-dried or pressed sample independent of the hornification process (e.g., pressing or drying). This correlation can be fitted using a Boltzmann function. Cellulase adsorption measurements indicated that wet-pressing-induced fiber hornification reduced cellulose accessibility to cellulase. The results obtained in this study provide guidelines to high-solids enzymatic saccharification of pretreated biomass.