2021 | OriginalPaper | Chapter
Efficiency of Agricultural Machinery: How to Integrate Traditional and Alternative Methods of Economic Evaluation?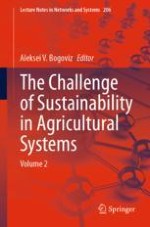 Read first chapter
Authors: Andrey V. Malakhov, Artem A. Borisov
Publisher: Springer International Publishing
Abstract
This paper focuses on the traditional and alternative methods of the economic evaluation of the effectiveness of the use of machinery and the tractor fleet, provides diagnostics of existing methods. The analysis shows that, nowadays, in addition to the high level of mechanization of agricultural production, competent optimization and modernization of the machine and tractor fleet, modern methods of economic evaluation as a new agenda for economic development are becoming essential in the structure of pressing problems of economic efficiency. The theoretical and methodological basis of the study was the fundamental and applied research of domestic and foreign schools in the field of economics, thematic publications on assessing the economic efficiency of the machine and tractor fleet, and reference books. The paper provides a critical analysis of traditional and alternative methods. The paper proposes a new integrated system and new indicators for assessing the economic efficiency of using the machine and tractor fleet and the need for its optimization. The development of suggestions for improvement and the adjustment of the studied methods is both scientifically-methodical and practically applied. This will allow a more objective assessment of the effectiveness of the use of machine and tractor fleets of agricultural enterprises.