2021 | OriginalPaper | Chapter
Efficient CFD Simulation Method for Calculation of Drag Torque in Wet Multi-plate Clutches in Comparison to Test Rig Results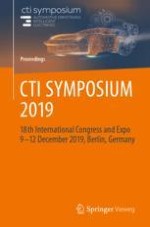 Read first chapter
Authors: Daniel Groetsch, Rudi Niedenthal, Katharina Voelkel, Hermann Pflaum, Karsten Stahl
Publisher: Springer Berlin Heidelberg
Abstract
Wet multi-plate clutches and brakes are important components of modern powershift transmissions and industrial drive trains. In the open state, drag losses occur due to fluid shear as load-independent losses. Determination of drag losses can be done by experiment or by CFD simulation. CFD simulation has many advantages over the experiment process, but often has the strong disadvantage of high computational times and in consequence, strongly simplified models. Therefore, the target is to develop an efficient and validated model to compute drag losses for any clutch design in a short computational time.
This work presents an innovative and validated CFD model to calculate drag losses of wet clutches. To ensure a convenient implementation of the model with high computational efficiency and quality at the same time, the commercial Software Simerics MP+ is used. Because of efficient modeling and solvers, the CFD model considers the geometry of a complete clearance between a steel and friction plate. This enables the model to calculate the drag losses for any possible groove design, which is a tremendous advantage in comparison to state of the art models, which often use circumferential symmetry. Furthermore, the model development is focused on a short calculation time: computational time is very short, which enables the overnight calculation of a whole drag-torque-differential speed curve. This allows variational calculations and at the same time, detailed investigations that are important both in early and advanced stages of development.
Extensive measurements on a component test rig using automobile series production parts allow a thorough validation of the model. The influences of changes in operating conditions, groove design, differential speed, oil injection temperature and volumetric flow rate are shown both in the measurements and in the simulation results.