19-09-2016 | Issue 3/2017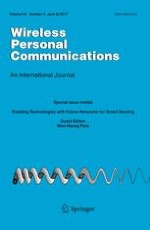 Efficient Distributed Identification for RFID Systems
Journal:
Authors:

Leonardo Sanchez, Victor Ramos
Abstract
RFID systems have been adopted by several sectors in societies for a wide set of applications, ranging from item level tagging to supply chain management. One of the most important RFID applications is tag identification, which is a process executed in an RFID network in order to distinguish the corresponding associated objects. Most of the research in this direction is aimed to the design of efficient communication protocols, which identify the whole set of tags in the covering region of an RFID reader. The common scenario comprises one reader and a set of tags, where the reader is generally located at the center of the
interrogation zone
; this scenario has been studied in several different ways with a centralized paradigm. However, there is a recent interest on analyzing an alternative scheme that consists in splitting the interrogation zone and executing a
distributed
mechanism to identify the whole set of tags. To date, some of the few contributions considering distributed approaches do not take into account a practical communication model. Thus, in this work we evaluate and compare the performance of both RFID tag identification paradigms using the EPC Class-1 Generation-2 standard and propose a practical communication model for such proposals distributing the identification process. Our results show that, indeed, the performance of the EPC Class-1 Generation-2 standard may be highly improved with the adoption of a distributed mechanism if all its features are fully exploited. Hence, the improvements obtained with our distributed proposal reach a gain of up to 65 % on the total identification delay compared with its centralized counterpart.