28-05-2019 | Original Paper | Issue 4/2020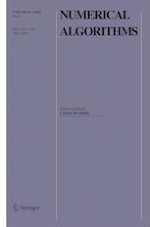 Efficient preconditioners for Radau-IIA time discretization of space fractional diffusion equations
Journal:
Authors:

Hao Chen, Dongping Xu
Important notes
Publisher's note
Springer Nature remains neutral with regard to jurisdictional claims in published maps and institutional affiliations.
Abstract
This paper is concerned with the construction of efficient preconditioners for systems arising from implicit Runge-Kutta time discretization methods for one-dimensional and two-dimensional space fractional diffusion equations. We consider the third-order, two-stage Radau-IIA method, which leads to a coupled 2 × 2 block system. Our approach is based on a Schur complement formulation for the unknown at the second stage. We present an approximate factorization of the Schur complement and derive the eigenvalue bounds of the preconditioned system. The components of the approximate factorization have the same structure as the system derived from implicit Euler discretization of the problem. Therefore, we reuse the available high performance of implicit Euler discretization preconditioners as the building block for our preconditioners. Several numerical experiments are presented to show the effectiveness of our approaches.