01-10-2013 | Issue 4/2013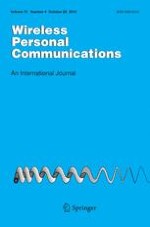 Efficient Rayleigh-Quotient Detector for Multi-layered Orthogonal STBC System
Journal:
Authors:

Yong-qiang Hei, Wen-tao Li, Xiao-hui Li, Weihong Fu
Important notes
This work was supported in part by the National Natural Science Foundation of China (61101069, 61201135, 61201134); The 111 Project (B08038); the National Key Project of New Generation Broad Band Wireless Communication (2012ZX03001027-001) The Fundamental Research Funds for the Central Universities (72115696).
Abstract
This paper investigates the detecting algorithm for MIMO system, in which the Multi-layered orthogonal space-time block code (OSTBC) is employed to transmit the data symbols. First, the matched filter design problem based on maximizing the SINR of each layer is investigated, which is characterized as a generalized eigen-value problem that can be efficiently solved by the Generalized Rayleigh-Quotient (R-Q) Theorem. Then a new efficient space time detecting algorithm is proposed for Multi-layered OSTBC with this R-Q matched filter, in which first a linear recombination strategy is applied on the received signal to construct a high-dimensional equivalent channel derived from the OSTBC encoding pattern, as a joint characterization of channel fading and OSTBC encoding. Then using the high-dimensional equivalent channel matrix, a group of R-Q matched filters are designed to effectively extract the receive signal of the desired layer and suppress the interference from other layers. Finally, linear decoding is used to detect the transmitted symbols by exploiting the OSTBC-induced structure in the equivalent channel matrix of each layer after interference cancellation. Furthermore, the proposed algorithm in presence of the channel estimation error is also analyzed. Theory analysis and simulation results reveal that the proposed algorithm has the benefits of good robustness, better BER and capacity characteristics.