17-11-2020 | Issue 3/2021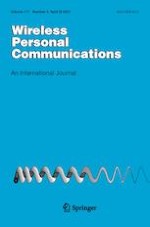 Efficient Solution for Connectivity Restoration (ESCR) in Wireless Sensor and Actor-Networks
Journal:
Authors:

Muhammad Kashif Saeed, Mahmood ul Hassan, Khalid Mahmood, Ansar Munir Shah, Jahangir Khan
Important notes
Publisher's Note
Springer Nature remains neutral with regard to jurisdictional claims in published maps and institutional affiliations.
Abstract
Wireless Sensor and actor-network (WSAN) is the utmost significant research area in wireless communication technology. Actor nodes play a vital role during the processing and transmission of valuable data to the base station. WSAN performs its operations in a harsh environment and, therefore, prone to network failure. Moreover, an actor node's failure causes the network into disjoint segments. Thus, the connectivity restoration of actor nodes is significant. This paper presents a novel technique, namely an efficient solution for connectivity restoration (ESCR), to detect the failure and ensure the connectivity among actor nodes. ESCR comprises two algorithms, i.e., assigning backup nodes and connectivity restoration process. The main objective of the proposed technique is to restore the network with efficient utilization of residual energy and minimum nodes movement. The effectiveness and performance of the ESCR technique are validated through extensive simulations and comparison with baseline approaches. The results show that the ESCR outperforms baseline approaches in terms of the number of nodes moved, total moved distance, reduction in the coverage area, and recovery time.