19-12-2016 | Original Paper | Issue 7/2017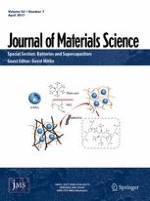 Efficient strategy of chlorine-assisted liquid-phase exfoliation of graphite
Journal:
Authors:

Xiao-Feng Tang, Zhen-Guo Yang, Jia-Hui Liang
Abstract
A large-scale, inexpensive, and facile strategy has been successfully developed for preparation of high-quality graphene nanosheets by combining electron-absorbing materials and chorine in
N
-methyl-2-pyrrolidone. The as-obtained graphene sheets were proven to contain low levels of naturally absorbed oxygen inherited from the starting graphite by Fourier transform infrared spectroscopy, Raman spectroscopy, thermogravimetric analysis, and X-ray diffraction. Meanwhile, the structure of produced graphene sheets was further characterized using scanning electron microscopy, transmission electron microscopy, and atomic force microscopy. Compared to the previous techniques, this eco-friendly approach demonstrates obvious advantages, such as low cost and simplicity, which could be an alternative method to prepare graphene-based composites for the potential applications in the near future.