Published in: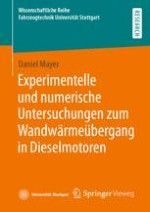 2023 | OriginalPaper | Chapter
Einleitung und Zielsetzung
Der dieselmotorische Verbrenner war seit den 90iger Jahren zusammen mit dem Ottomotor die dominierende Antriebstechnologie für Personenkraftverkehr in Europa - im Nutzfahrzeugbereich gilt er auch heute noch weltweit als "state of the art". Mit der Manipulation von Abgaswerten im Jahr 2015 (siehe [26]) begann eine fortwährende Abwärtsspirale des einstigen Prunkstücks deutscher Ingenieurskunst, wie sukzessiv sinkende Absatzzahlen im Pkw-Bereich zeigen [34]. Trotz anhaltender Kritik, welche sicher nicht immer technisch einwandfrei sondern auch populistisch geführt wurde und wird, kann der Dieselmotor gerade heute im allseits angestrebten Antriebsmix der Zukunft einen Beitrag zu umweltfreundlicher Mobilität liefern [59, 60].