Published in: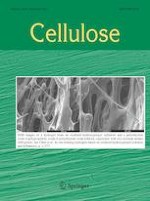 26-10-2021 | Original Research
Electrically controlled transdermal ibuprofen delivery consisting of pectin-bacterial cellulose/polypyrrole hydrogel composites
Published in: Cellulose | Issue 18/2021
Login to get access
Abstract
Pectin/bacteria cellulose (BC) hydrogel composites with various BC contents have been fabricated for the purpose of electrically controlled transdermal drug delivery. A conductive polymer, polypyrrole, was successfully incorporated into the pectin/BC hydrogel composite as a host of drug encapsulation for controlled release under applied electric field. Ibuprofen as a model drug was studied for its release behavior based on the effects of matrix composition, pH stimulation, matrix mesh size, and applied electrical potential by using a modified Franz diffusion cell. The drug release was optimized at 30 wt% BC and increased with applying electrical potential. The highest amount of drug release was 78% which was obtained on a drug-loaded polypyrrole-incorporated composite under applied electrical potential at 7 V. The hydrogel composites also presented the remarkable benefit of antibacterial activity for gram-positive bacteria. Thus, the hydrogel composites are valuable alternative materials for transdermal drug delivery.
Graphic abstract
×