27-02-2019 | Issue 3/2019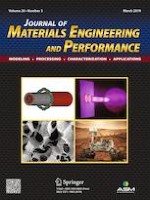 Electrochemical Properties of Commercially Pure Ti with TiB/TiB2 Coatings in Hanks' Balanced Salt Solution
Authors:

Adib Ebrahimi, Hamid Esfahani, Arash Fattah-alhosseini, Omid Imantalab
Important notes
Publisher's Note
Springer Nature remains neutral with regard to jurisdictional claims in published maps and institutional affiliations.
Abstract
In this study, in order to evaluate the electrochemical performance of different titanium boride coatings created on the commercially pure titanium (CP-Ti), distinct electrochemical assays in Hanks' balanced salt solution at 37 °C were conducted using pack cementation method. The results showed that the boriding at 900 and 1000 °C for 3 h creates the TiB whiskers and TiB whiskers/TiB
2
dense layer on the top of the commercially pure titanium surface, respectively. It was also found that not only borides coating had good adhesion on the substrate, but also that improved the titanium hardness more than five times. Polarization plots clarified the passive behavior of borided specimens. Impedance spectroscopy tests indicated the acceptable corrosion behavior of the borided specimens in Hanks' balanced salt solution. Mott–Schottky measurements indicated that the passive layers formed on the commercially pure titanium and the borided specimens had doped
n
-type semiconductor properties. Mott–Schottky measurements displayed that the donor density of the passive layers decreased with the rising time as well. Finally, because of better surface conditions to make a less defective and more protective passive layer, the borided specimen at 900 °C in comparison with the borided specimen at 1000 °C was shown to be the more suitable choice for bioimplant applications.