2012 | OriginalPaper | Chapter
Electronic Commerce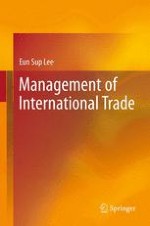 Read first chapter
Author: Eun Sup Lee
Publisher: Springer Berlin Heidelberg
1.
Development and practical use of Electronic Data Interchange (EDI) in international business transactions;
2.
Importance and functions of standardization of EDI methods of communication from the viewpoints of promotion of facilitation in conducting international trade;
3.
Function and importance of UNCITRAL model laws and conventions to promote international electronic commerce;
4.
Factors to be considered in doing international electronic business transactions in comparison with the case of off-line transactions;
5.
Efficiency and productivity in doing international electronic commerce compared with off-line commerce;
6.
Factors to be considered in making transportation and cargo insurance contracts in international trade through electronic commerce compared with the case through off-line transactions;