27-03-2020 | Issue 6/2020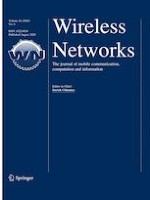 Energy efficiency maximization in FDD massive MIMO systems with channel aging
Journal:
Authors:

Mona Ahmadabadian, Soheil Khavari Moghaddam, S. Mohammad Razavizadeh
Important notes
Publisher's Note
Springer Nature remains neutral with regard to jurisdictional claims in published maps and institutional affiliations.
Abstract
In this paper, energy efficiency (EE) of the frequency division duplexing (FDD) massive multiple-input multiple-output (MIMO) systems in the downlink transmission is investigated by considering the channel aging effect. First, we present a model for channel aging in the FDD massive MIMO systems and study its effect on the EE of the system. We assume that the channel aging exists in the entire transmission frame of the FDD systems which includes both pilot and data transmission phases. Then, we propose methods for compensating for this effect and increasing the EE. These methods include channel prediction method in the pilot transmission phase, system's parameters optimization for maximizing the EE and a hybrid method. By numerical simulations, we compare the performance of the proposed methods and their abilities to combat the channel aging effect in the massive MIMO systems and EE improvement.