01-01-2021 | Issue 1/2021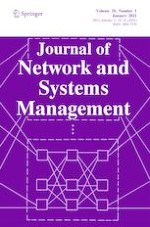 Energy-Efficient Data Transmission and Aggregation Protocol in Periodic Sensor Networks Based Fog Computing
Authors:

Ali Kadhum Idrees, Ali Kadhum M. Al-Qurabat
Important notes
Publisher's Note
Springer Nature remains neutral with regard to jurisdictional claims in published maps and institutional affiliations.
Abstract
The Periodic Sensor Networks based fog computing of the Internet of Things (IoT) represents one of the most providers of the big data on the network because it is implemented in the widespread of real-world applications. The increasing size of data on the network can lead to increase the communication overhead and thus decrease the limited energy of the wireless sensor devices. Therefore, it is necessary to remove the redundant sensed data to minimize the cost of communication and save the energy of sensor devices. In this paper, an Energy-efficient Data Transmission and Aggregation Protocol (EDaTAP) in Periodic Sensor Networks (PSNs) based fog computing is proposed. EDaTAP protocol is periodic and performs its task in two levels: sensor device and fog gateway processing levels. In the latter, we proposed and implemented a clustering-based Dynamic Time Warping (DTW) with simple encoding to eliminate redundant similar data sets that are received from the sensor devices and decrease the transmitted data sets to the base station. In the former, the sensor device has applied an integrated grouping and simple encoding algorithm to remove redundant data from the sensed data and then encoded before sending them to the fog gateway. EDaTAP protocol is assessed and executed by the OMNeT++ simulator using real sensed data of periodic sensor devices. The proposed EDaTAP protocol can clean and reduce the transmitted sensed data up to 97.4
\(\%\)
, save energy up to 81.2
\(\%\)
, decrease the lost data up to 55.5
\(\%\)
, transmit up to 31
\(\%\)
of data measures sets to the base station, detect up to 6534 of redundant data sets at the fog gateway, and consume up to 0.0186 of energy at the fog gateway in comparison with other approaches.