12-09-2016 | Issue 6-7/2017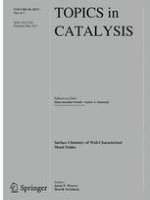 Energy Level Shifts at the Silica/Ru(0001) Heterojunction Driven by Surface and Interface Dipoles
Journal:
Authors:

Mengen Wang, Jian-Qiang Zhong, John Kestell, Iradwikanari Waluyo, Dario J. Stacchiola, J. Anibal Boscoboinik, Deyu Lu
Important notes
Electronic supplementary material
The online version of this article (doi:
10.​1007/​s11244-016-0704-x
) contains supplementary material, which is available to authorized users.
Jian-Qiang Zhong and Mengen Wang contributed equally to this work.
Abstract
Charge redistribution at heterogeneous interfaces is a fundamental aspect of surface chemistry. Manipulating the amount of charges and the magnitude of dipole moments at the interface in a controlled way has attracted tremendous attention for its potential to modify the activity of heterogeneous catalysts in catalyst design. Two-dimensional ultrathin silica films with well-defined atomic structures have been recently synthesized and proposed as model systems for heterogeneous catalysts studies. R. Wlodarczyk et al. (Phys. Rev. B, 85, 085403 (2012)) have demonstrated that the electronic structure of silica/Ru(0001) can be reversibly tuned by changing the amount of interfacial chemisorbed oxygen. Here we carried out systematic investigations to understand the underlying mechanism through which the electronic structure at the silica/Ru(0001) interface can be tuned. As corroborated by both in situ X-ray photoelectron spectroscopy and density functional theory calculations, the observed interface energy level alignments strongly depend on the surface and interfacial charge transfer induced dipoles at the silica/Ru(0001) heterojunction. These observations may help to understand variations in catalytic performance of the model system from the viewpoint of the electronic properties at the confined space between the silica bilayer and the Ru(0001) surface. The same behavior is observed for the aluminosilicate bilayer, which has been previously proposed as a model system for zeolites.