Published in: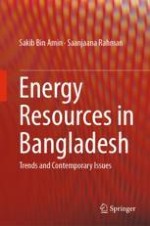 2019 | OriginalPaper | Chapter
1. Energy: The Lifeblood of Bangladesh Economy
Energy Is a Key Factor in Achieving Sustainable Development in Bangladesh
Abstract
The indispensable role of energy, a global commodity, in shaping the world economy has also been widely acknowledged. Energy enhances the productivity of other non-energy factors of production and also contributes towards improvement in the living standard of the people, apart from playing its ultimate role in dictating the development process within an economy. It is a prime task for a growing economy like Bangladesh to tap all possible options that are optimal for its energy sector's development and to do so; the economic policies have to be focused explicitly on accurate identification of the appropriate reform strategies to maximise the benefits from energy sector development. The development of power and energy sector will not only elevate the economy to a higher status but also upsurge productivity and efficiency that will boost the overall economic achievement of Bangladesh.