31-01-2018 | Issue 6/2018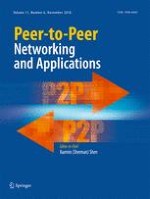 Enhanced secure device authentication algorithm in P2P-based smart farm system
Authors:

Cheol-Joo Chae, Han-Jin Cho
Important notes
This article is part of the Topical Collection:
Special Issue on Convergence P2P Cloud Computing
Guest Editor: Jung-Soo Han
Abstract
The application of ICT technology to agriculture has raised interest in smart farm systems that can remotely manage growing environments. Data transmission in smart farm systems uses wireless networks such as ZigBee and Wireless LAN and TCP/IP based wired networks. And also use the P2P network to share smart farm system data with other smart farm systems. There are security vulnerabilities that may arise in information communication environment in smart farm system unlike traditional farms, the smart farm system automatically stores and manages data for growth environments such as temperature, humidity, and CO2. Therefore, an attacker can use a security vulnerability to manage temperature, humidity, and Co2, which can cause significant damage. In this paper, we propose an authentication method that performs minimum encryption and decryption operations by combining session key and public key to securely control smart farm system. The proposed authentication method reduces the encryption/decryption time, the registration time, and facilitates the use of the smart card with low computing performance by using the session key compared with the existing authentication method.