01-06-2015 | FUNDAMENTAL PROBLEMS IN METROLOGY | Issue 3/2015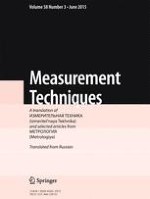 Entangled States for Improving Noise Immunity in Ultimate Measurements
Journal:
Authors:

L. N. Zherikhina, G. N. Izmailov, A. M. Tskhovrebov
Important notes
Translated from Metrologiya, No. 8, pp. 3–17, August, 2014.
We show that in some cases, in measurements at the level when quantum limits on accuracy begin to have an appreciable effect, we can use quantum entanglement of states in the studied system for extensive active suppression of background noise. We consider examples in which entanglement provides an "extra degree of freedom", making it possible to select the desired events while rejecting the noise.