Published in: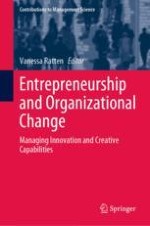 2020 | OriginalPaper | Chapter
Entrepreneurship and Organizational Change: Managing Innovation and Creative Capabilities
Abstract
Entrepreneurship is a fundamental characteristic of successful organizations and impacts their overall performance in the marketplace. Increasingly, more attention is given to the way innovation and creative capabilities can be managed in organisations in order to increase their competitiveness. The aim of this chapter is to discuss the role entrepreneurship plays in organisational change as a way of moving forward the literature on behavioural intentions. This means focusing on dynamic capabilities that embed an innovative perspective in terms of enabling creative change.