10-01-2020 | Issue 1/2020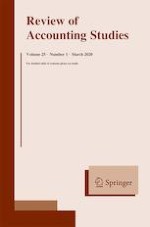 Entropy-balanced accruals
Journal:
Authors:

Jeff L. McMullin, Bryce Schonberger
Important notes
Electronic supplementary material
We benefitted from numerous conversations with Charles Wasley and comments and suggestions from Eric Allen, Daniel Beneish, Matthew Cobabe, Ilia Dichev, Scott Dyreng, Leslie Hodder, Michelle Hutchens, Mat McCubbins, Brian Miller, Miguel Minutti-Meza, Spencer Pierce, Richard Price, Darren Roulstone, Joseph H. Schroeder, Richard Sloan (editor), Anup Srivastava (discussant), Karen Ton, Brady Twedt, Jim Wahlen, Teri Yohn, Jerry Zimmerman, an anonymous referee, and seminar participants at the American Accounting Association's Annual Meeting, Brigham Young University's Accounting Research Symposium, Indiana University, and the University of Rochester. The authors appreciate financial support from the Deloitte Foundation, the Simon Business School, and the Kelley School of Business.
Publisher's note
Springer Nature remains neutral with regard to jurisdictional claims in published maps and institutional affiliations.
Abstract
This study assesses whether the accrual-generating process is adequately described by a linear model with respect to a range of underlying determinants examined by prior literature. We document substantial departures from linearity across the distributions of accrual determinants, including measures of size, performance, and growth. To incorporate non-linear relations, we employ a recently developed multivariate matching approach (entropy balancing) to adjust for determinants in place of relying on a linear model. Entropy balancing identifies weights for the control sample to equalize the distribution of determinants across treatment and control samples. In simulations drawing random samples from deciles where a linear model displays poor fit, we find that entropy balancing significantly improves accrual model specification by reducing coefficient bias relative to linear and propensity-score matched models. Consistent with entropy balancing retaining sufficient power, we find that its estimates detect seeded accrual manipulations and explain variation in accruals around equity issuances.