2020 | OriginalPaper | Chapter
7. Environmental Change of Cruise Industry in Northeast Asia and Challenges Facing the Korean Cruise Industry—Development Strategy Centered on North Busan Port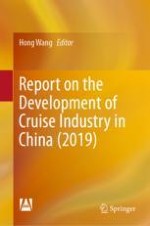 Read first chapter
Author: Fushun Lin
Publisher: Springer Singapore
Abstract
Based on the main content of the results of the 'Busan Port Ocean Tourism and Leisure Development Strategy Research Subject' conducted by the Ministry of Oceans and Fisheries (MOF) under the leadership of Korea International Cruise Research Institute in the second half of 2018, and the solutions of the Korean cruise industry facing the environmental change of the cruise in Northeast Asia, the cruise development strategy and future promotion plan for the redevelopment of Busan Port and north Busan Port in ROK are proposed in this article. In Chap.
2
of this research subject, based on the analysis and future change trend of the cruise environment in Northeast Asia centered on the situations before and after the THAAD incident, we propose the concept of a multi-turnaround cruise homeport chain cruising in Northeast Asia for dealing with the Korea cruise in advance. In Chap.
3
, we describe the development strategy and detailed plan of north Busan Port, which is the hub port of cruise in Northeast Asia. The final conclusions will include the abstract of the study and the basic directions and recommendations needed for further advancement. The recent important topic 'multi-turnaround cruise homeport chain cruising' of cruise environment change in Northeast Asia is the opportunity for the development of cruise industry, which is expected to play a catalytic role in the realization of cruise homeport of Busan Port. The important opportunity for the expansion of the total number of cruises shall be achieved through the alliance between the cruise port cities in Northeast Asia. In the future promotion strategy and policy implementation, if we can make a more pre-emptive response to internal and external environmental changes and improve the feasibility of policy realization, it will become an important driving force for the stability of the cruise in Northeast Asia and the real realization of the multi-turnaround system.