01-06-2015 | LCA FOR ENERGY SYSTEMS AND FOOD PRODUCTS | Issue 6/2015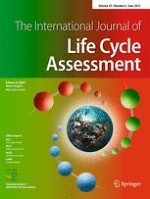 Environmental life cycle assessment of a small hydropower plant in China
Authors:

Mingyue Pang, Lixiao Zhang, Changbo Wang, Gengyuan Liu
Important notes
Responsible editor: Shabbir Gheewala
Abstract
Purpose
Small hydropower (SHP) in China has experienced soring development in the past two decades and has been assigned ambitious development goals recently, while its environmental performance remains unclear. This study is intended to provide a comprehensive assessment of the environmental impacts of SHP plants in China, to compare the results with its counterparts in other countries, and to identify the key factors in the mitigation of negative consequences.
Methods
A life cycle assessment of a SHP plant in Guizhou Province of China was conducted in a cradle-to-grave manner following the ISO 14040 guidelines. The functional unit is defined as 1 MWh of net electricity produced by the plant. The CML 2001 method was applied to characterize the environmental impacts. The environmental impact categories considered in this study included global warming (GWP), abiotic depletion (ADP), acidification (AP), freshwater aquatic ecotoxicity (FAETP), human toxicity (HTP), and photochemical ozone creation (POCP). Further contribution analyses and sensitivity analysis was performed to identify the key contributors to each impact category during the life cycle of the plant.
Results and discussion
For the case plant, the considered impacts are caused primarily by the construction stage. As for the materials and energy inputs, cement, steel, and electricity are the three dominating ones for the overall environmental impacts. Compared with SHP plants in other countries, the plant performs similar to the MW scale plants in Thailand and Japan but worse than the plant in Switzerland. Further comparison of life cycle inventories (LCIs) revealed that the quality of hydro-energy resources and acquisition of indigenous equipment technology is essential to their environmental performance. The results of the sensitivity analysis suggested that the amount of construction materials and energy consumption as well as the plant output influences its environmental performance significantly.
Conclusions and recommendations
The construction stage of the SHP plant is the most important source of environmental impacts. To minimize the impacts of this stage, optimization of the structural design and application of new construction materials and good construction practices is recommended. In addition, determining suitable installed capacity and advancing equipment technologies to ensure the optimal output is also crucial to improve the environmental performance of SHP plants in China, regarding the current serious problem of unstable operation.