14-06-2021 | Issue 2/2021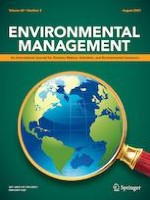 Environmental Management in the Peri-urban Region: Psychological and Contextual Factors Influencing Private Land Conservation Actions
Journal:
Authors:

Konrad Uebel, Jonathan Rhodes, Kerrie A. Wilson, Angela J. Dean
Important notes
Supplementary information
Publisher's note
Springer Nature remains neutral with regard to jurisdictional claims in published maps and institutional affiliations.
Abstract
Peri-urban areas, defined as the region between urban and rural settlements, are heterogeneous, dynamic regions experiencing rapid land use change in cities around the world. Ongoing development and land use change has resulted in the fragmentation, degradation and loss of natural assets, threatening biodiversity, and ecosystems within the peri-urban region. With much of this land privately owned, the actions of landholders have considerable opportunity to deliver environmental outcomes, yet an understanding of this diverse group of landholders is challenging. Through a survey of landholders (
N
 = 184) in Australian peri-urban regions we sought to understand motivations and barriers to engagement in environmental management. Factors influencing willingness to engage in environmental management included perceived personal capacity to act, feeling that actions were helpful, and community participation. We discuss how engagement strategies could incorporate these findings by focussing on improving capacity and environmental knowledge with hands on, face-to-face extension activities, encouraging simple actions, and fostering greater community interaction.