Published in: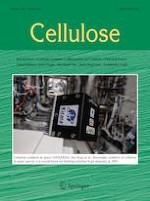 Open Access 29-01-2022 | Original Research
Enzymatic synthesis of cellulose in space: gravity is a crucial factor for building cellulose II gel structure
Published in: Cellulose | Issue 5/2022
Abstract
We previously reported in vitro synthesis of highly ordered crystalline cellulose II by reverse reaction of cellodextrin phosphorylase from the cellulolytic bacterium
Clostridium
(
Hungateiclostridium
)
thermocellum
(
Ct
CDP), but the formation mechanism of the cellulose crystals and highly ordered structure has long been unclear. Considering the specific density of cellulose versus water, the formation of crystalline and highly ordered structure in an aqueous solution should be affected by gravity. Thus, we synthesized cellulose with
Ct
CDP stable variant at the International Space Station, where sedimentation and convection due to gravity are negligible. Optical microscopic observation suggested that cellulose in space has a gel-like appearance without apparent aggregation, in contrast to cellulose synthesized on the ground. Small-angle X-ray scattering (SAXS) and wide-angle X-ray scattering (WAXS) indicated that cellulose synthesized in space has a more uniform particle distribution in the ~ 100 nm scale region than cellulose synthesized on the ground. Scanning electron microscopy (SEM) showed that both celluloses have a micrometer scale network structure, whereas a fine fiber network was constructed only under microgravity. These results indicate that gravity plays a role in cellulose II crystal sedimentation and the building of network structure, and synthesis in space could play a role in designing unique materials.
Graphical abstract
×
Supplementary Information
Publisher's Note
Springer Nature remains neutral with regard to jurisdictional claims in published maps and institutional affiliations.
Introduction
Cellulose is the most abundant carbohydrate on Earth, and has been utilized by humans from ancient times. In nature, cellulose is mostly produced by woody and herbaceous plants as a cell-wall component. It is also synthesized by some microorganisms such as
Komagataeibacter xylinus
(
Acetobacter xylinum
), invertebrate animals (urochordates), or green algae (
Cladophora
species) (VanderHart and Atalla
1984
; Belton et al.
1989
; Larsson et al.
1997
). Cellulose is a linear polymer of exclusively β-1,4-glycosidic-bonded glucose molecules synthesized by cellulose synthase complex on the cell membrane of these species. β-1,4-Glucan chains synthesized by the complex on the cell membrane spontaneously assemble and crystallize to form cellulose microfibrils (CMF; also called cellulose nanofibers, CNF). The shape of CMF depends on the geometry and morphology of the cellulose synthase complex (Brown
1996
; Saxena and Brown
2005
), but the mechanism of CMF formation is still unknown. Inside CMF, the β-1,4-glucan chains are bound together by hydrogen bonds and hydrophobic interaction to form a specific crystalline structure. Cellulose I
α
and I
β
are the smallest crystalline units of natural cellulose, and these two natural crystalline allomorphs are composed of glucan chains in parallel orientation (Atalla and VanderHart
1984
; Nishiyama et al.
2002
,
2003
).
In contrast, cellulose II is a non-natural crystalline form originally found in mercerized and regenerated cellulose. The crystalline structure of cellulose II is significantly different from those of natural cellulose I
α
and I
β
, having an anti-parallel orientation of cellulose molecules (Kolpak and Blackwell
1976
; Langan et al.
1999
; Kim et al.
2006
). Cellulose II may be thermodynamically more stable, considering that it is formed in preference to metastable cellulose I
α
or I
β
when dissolved β-1,4-glucan chains are recrystallized.
To elucidate the formation mechanism of CMF and to develop new materials applications, the synthesis of various forms of artificial cellulose has been attempted (Uryu et al.
1983
,
1985
; Nakatsubo et al.
1996
). Early efforts showed poor regio- and stereo-selectivity, and thus highly substrate-selective enzymatic approaches were adopted (Kobayashi et al.
1991
,
2000
; Kobayashi and Shoda
1995
; Kobayashi
2005
; Tanaka et al.
2007
). Cellodextrin phosphorylase (CDP) is one of the enzymes utilized for the synthesis of cellulose in vitro. Although CDP catalyzes phosphorolysis of cellodextrin (cellooligosaccharide), it is possible to synthesize cellulose via the reverse reaction by using high concentrations of α-
d
-glucose-1-phosphate (α-G1P) as a glycosyl donor, with glucose and cellobiose as primary glycosyl acceptors (Alexander
1968
; Sheth and Alexander
1969
; Krishnareddy et al.
2002
). The glycosyl donors form β-1,4-glycoside bonds with the non-reducing ends of glycosyl acceptors. In this manner, platelet lamellae of crystalline cellulose having the degree of polymerization (DP) 9 were formed in vitro (Hiraishi et al.
2009
). All these studies aimed to synthesize cellulose in vitro afforded cellulose II. Pylkkänen et al
.
have found that concentrated cellulose II synthesized by CDP from
Clostridium (Hungateiclostridium) thermocellum
(
Ct
CDP) formed crystalline platelet lamellae and ribbon-like higher-ordered network structure (Pylkkänen et al.
2020
). However, the mechanism of the formation of cellulose II's supermolecular structure is still unknown, as is that of natural cellulose I
α
and I
β
.
Protein crystallization in space enhances the quality of protein crystals due to decreased sedimentation and convection under microgravity (Vekilov
1999
). This affords more orderly crystals than can be obtained on the ground, enabling researchers to obtain higher-quality X-ray diffraction data (Snell et al.
1995
; Inaka et al.
2011
; Nakamura et al.
2015
; Tachioka et al.
2017
; Yamaguchi et al.
2021
). A crystal of alloy semiconductor grown on the International Space Station (ISS) also showed better quality than one grown on the ground (Inatomi et al.
2015
), and an NaCl crystal grown on the ISS had different morphology from a crystal grown on Earth (Fontana et al.
2011
). On the other hand, the synthesis and crystal formation of organic polymers such as cellulose under microgravity in space have not yet been investigated.
In the present study, cellulose II was synthesized in vitro using
Ct
CDP on the ISS. We investigated how gravity affects cellulose II crystalline or higher-order structure formation by comparing the product with material synthesized in the same way on the ground, employing small-angle x-ray scattering (SAXS), wide-angle X-ray scattering (WAXS), Matrix-Assisted Laser Desorption/Ionization Time-of-Flight mass spectrometer (MALDI-ToF MS) and scanning electron microscopy (SEM).
Materials and methods
Results and discussion
Conclusion
In the present study, we investigated the possibility that gravity influences the crystallization and formation of the highly ordered structure of cellulose II. We found that cellulose synthesized in space did not form aggregates like those of cellulose synthesized on the ground. WAXS demonstrated that similar nano-scale crystalline cellulose II packing occurred on the ground and in space. However, the SAXS experiment showed that cellulose particles in a capillary had higher homogeneity when synthesized in space. SEM observation showed that space-synthesized cellulose had a fine supramolecular network structure on the micrometer scale, and this was strong enough to survive after return to Earth. These findings suggest that gravity influences aggregate formation during self-assembly to form the network. In this work, a bottom-up synthesis of pure cellulose II crystal gel without sedimentation and aggregation was achieved for the first time. The physical properties of this newly created cellulose II crystalline gel remain to be investigated.
Acknowledgments
The authors thank Prof. Motomitsu Kitaoka of Niigata University for providing
Ct
CDP gene and Prof. Tomoya Imai of Kyoto University for helpful discussions. The WAXS and SAXS experiments were conducted at the BL8S3 station of Aichi Synchrotron Radiation Center, Aichi Science & Technology Foundation, Aichi, Japan (Proposal No. 2020 D6031). SEM observation was conducted under the supervision of Dr. Satoshi Kimura of the University of Tokyo. We thank Dr. Shuji Fujisawa of the University of Tokyo for advice to graphical works. We thank Confocal Science Inc. and Japan Manned Space Systems Corporation (JAMSS) for sample preparation and launch to the ISS. This work was supported by the grant "Development of recycling system for bio-organic materials in space", the Ministry of Education, Culture, Sports, Science and Technology (MEXT), Japan. JSPS KAKENHI (Grant no. 19K15884 to NS) and by a Grant-in-Aid for Innovative Areas from MEXT (Grant no. 18H05494 to KI), the Academy of Finland through research grant SA-FOSSOK [Decision No. 309384]. K.I. thanks the Finnish Funding Agency for Innovation for the support of the Finland Distinguished Professor Program "Advanced approaches for enzymatic biomass utilization and modification (BioAD)".
Declarations
Conflict of interest
The authors declare that they have no conflict of interest.
Open Access
This article is licensed under a Creative Commons Attribution 4.0 International License, which permits use, sharing, adaptation, distribution and reproduction in any medium or format, as long as you give appropriate credit to the original author(s) and the source, provide a link to the Creative Commons licence, and indicate if changes were made. The images or other third party material in this article are included in the article's Creative Commons licence, unless indicated otherwise in a credit line to the material. If material is not included in the article's Creative Commons licence and your intended use is not permitted by statutory regulation or exceeds the permitted use, you will need to obtain permission directly from the copyright holder. To view a copy of this licence, visit
http://​creativecommons.​org/​licenses/​by/​4.​0/​
.
Publisher's Note
Springer Nature remains neutral with regard to jurisdictional claims in published maps and institutional affiliations.