04-09-2020 | Issue 2/2021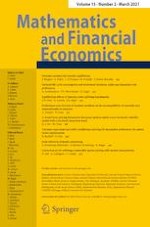 Equilibrium effects of intraday order-splitting benchmarks
Journal:
Authors:

Jin Hyuk Choi, Kasper Larsen, Duane J. Seppi
Important notes
The authors have benefited from helpful comments from Frank Riedel, an anonymous associate editor and referee, Yashar Barardehi, Umut Cetin, Chris Frei, Steve Karolyi, Ajitesh Mehta, Johannes Muhle-Karbe, Dan Ocone, Tom Ruchti, Chester Spatt, Harvey Stein, Kim Weston, Ariel Zetlin-Jones, and seminar participants at Carnegie Mellon University, Columbia University, IAQF/Thalesians, and Intech. Jin Hyuk Choi is supported by the National Research Foundation of Korea (NRF) and the Korea government (MSIT) (Nos. 2020R1C1C1A01014142 and 2017R1E1A1A03070732). Kasper Larsen is supported by the National Science Foundation (NSF) under Grant No. DMS 1812679 (2018–2021). Any opinions, findings, and conclusions or recommendations expressed in this material are those of the authors and do not necessarily reflect the views of the National Science Foundation (NSF).
Publisher's Note
Springer Nature remains neutral with regard to jurisdictional claims in published maps and institutional affiliations.
Abstract
This paper presents a continuous-time model of intraday trading, pricing, and liquidity with dynamic TWAP and VWAP benchmarks. The model is solved in closed-form for the competitive equilibrium and also for non-price-taking equilibria. The intraday trajectories of TWAP trading targets cause predictable intraday patterns of price pressure, and randomness in VWAP target trajectories induces additional randomness in intraday price-pressure patterns. TWAP and VWAP trading both reduce market liquidity and increase price volatility relative to just terminal trading targets alone. The model is computationally tractable, which lets us provide a number of numerical illustrations.