01-06-2015 | ACOUSTIC MEASUREMENTS | Issue 3/2015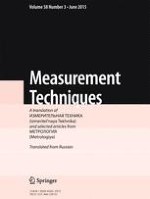 Error Determination in the Measurement of Propagation Velocity of Longitudinal Ultrasonic Waves by the Immersion Method
Journal:
Authors:

P. V. Bazylev, A. I. Kondratiev, V. A. Lugovoi, A. A. Romanko
Important notes
Translated from Izmeritel'naya Tekhnika, No. 3, pp. 60–63, March, 2015.
The effect of an adsorbed gas layer at the solid-liquid interface on the measurement results for propagation velocity of longitudinal ultrasonic waves in samples using an immersion method has been studied theoretically and experimentally. The systematic component of the immersion method error was determined by comparison with data obtained using a non-contact measuring method.