29-04-2019 | Issue 3/2019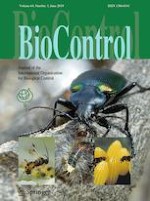 Establishment and seasonal activity in New Zealand of
Mastrus ridens

, a gregarious ectoparasitoid of codling moth

Cydia pomonella
Journal:
Authors:

John G. Charles, W. R. Manoharie Sandanayaka, James T. S. Walker, Peter W. Shaw, Asha Chhagan, Lyn M. Cole, Kate Colhoun, Vicky A. Davis, D. Roger Wallis
Important notes
Handling Editor: Josep Anton Jacques Miret.
Abstract
The establishment of
Mastrus ridens
Horstmann (Hym: Ichneumonidae) in New Zealand, from introductions in 2012–2015, was assessed in 2016. Two assessment techniques were used: (1) 10-cm wide corrugated cardboard trunk bands deployed throughout the summer and winter periods to catch wild codling moth larvae and their parasitoids; and (2) sentinel, laboratory reared, codling moth larvae, cocooned within narrow, 2-cm wide corrugated cardboard bands, deployed on a monthly rotation throughout the spring and summer. Trunk band recoveries showed at least a low rate of establishment of
Mastrus ridens
across the country.
Mastrus ridens
females attacked sentinel hosts from early spring (prior to pupation of wild hosts) until late autumn. This evidence for multi-voltinism (compared with one or two generations of their host) signals a potentially effective parasitoid. Four other codling moth parasitoids were also recovered frequently from either wild or sentinel codling moth larvae, with differences between regions. The extent to which they may disrupt or enhance biocontrol by
M. ridens
remains to be investigated.